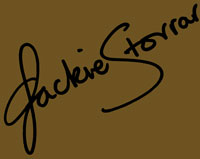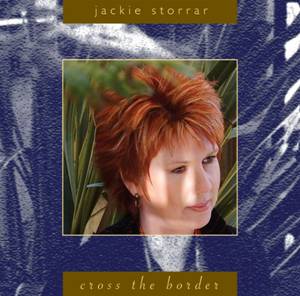 "CROSS THE BORDER"
Released 1st October 2007 on Parrothouse Records (UK)
Catalogue Number: PHR-0511-CD.
Available from HMV, Zavvi, Amazon.co.uk and Borders
Genre: "Country Influenced" – that is to say, it's a mix of MOR Pop with leanings towards modern Country Music. (Think of The Eagles and The Carpenters with a dash of Shania Twain.)
"Cross The Border" is an aptly named crossover album. It features many new songs, written by Jackie, with a recurring theme of people being caught at moments of indecision ("Which One Takes The Blame" & "Sometimes Love's Just Not Enough"), or pausing at one of those life-changing moments ("She's All Cried Out", "Angel In Disguise" & "Cross The Border"). There are also amazing new interpretations of songs by Motorhead ("Ace Of Spades") and Kylie ("Can't Get You Out Of My Head").
"I'd like to think of this album as being music for grown ups," says Jackie, "people who have lived a little, loved a little, and dare I say it lost a little. I love meeting people. Once you take the time to listen, people have such interesting stories."
The album is produced by the highly successful Pete Ware (Charlie Landsborough & Hazel Dean) and is co-written and arranged by London's Steve Thiebault (The Carpenters, Branson USA & numerous West End credits). It features some of Scotland's best musicians, including Dougie Stevenson (Billie Jo Spears, Boxcar Willie & Runrig), Willie Logan (a veteran of over 40 albums and one of the country's greatest Country/Blues Guitarists) & Canadian Fiddle star Ian Cameron.
Since leaving her native Scotland in 1994, Jackie has certainly paid her dues. Her singing and songwriting talents have been honed abroad, with gigs in a staggering 42 countries around the world.
Despite all her travelling, Jackie has always tried to stay true to her roots.

"I don't have an American accent," she says, "so why try and be something I'm not. I grew up listening to British chart music as well as Country, so my influences are as much Abba, Elton John and The Carpenters as they are The Eagles, Reba McEntire and Shania Twain."
With her rich and beautiful alto voice, clearly at home singing "Country Influenced" music,
now it's time for the rest of us to experience her magic too.
Track Listing:
1 DON'T LEAVE ME JUST SQUEEZE ME. 3.26
(Storrar/Thiebault)
2 SHE'S ALL CRIED OUT. 4.09
(Storrar/Thiebault)
3 HEAVEN BLESSED. 3.44
(Storrar/Thiebault)
4 THE MORE I GIVE YOU. 3.52
(Storrar/Thiebault)
5 ACE OF SPADES. 3.35
(Kilmister/Ian/Fraser) Motor Music Ltd
6 CROSS THE BORDER. 4.00
(Blackie/Iravani/Storrar/Thiebault)
7 TORN BETWEEN TWO LOVERS. 4.18
(Jarrell/Yarrow) Ashtree Holdings Ltd / Chappell
8 ANGEL IN DISGUISE. 4.26
(Storrar/Thiebault)
9 CAN'T GET YOU OUT OF MY HEAD 3.46
(Dennis/Davis) EMI Music Publishing / Universal Music
10 I'D REALLY LOVE TO SEE YOU TONIGHT. 2:45
(Parker McGee) IMN The International Music Network
11 WHICH ONE TAKES THE BLAME? 3.42
(Storrar/Thiebault)
12 SOMETIMES LOVE'S JUST NOT ENOUGH. 3.50
(Storrar/Thiebault)
To listen to tracks from "Cross The Border" click on: www.myspace.com/jackiestorrar
_______________
"It gives me great pleasure to say that this is a wonderful CD.
It kept me wide-awake on many long road journeys during my UK Tour!
Not only is Jackie a gracious, charming and wonderfully talented vocalist,
but an excellent songwriter!
She is a great talent with a bright future."

George Hamilton IV (Nashville)
_______________
"This is a fine album of excellent original songs intermingled with some classic covers.
Each song is delivered in Jackie's own heartfelt way and shows her
qualities as both singer and songwriter."
Charlie Landsborough
_______________
"Jackie Storrar…is an extremely talented person…who writes beautiful songs."
Gloria Hunniford (BBC)
_______________
" Like a rare gem waiting to be discovered, Jackie Storrar must be one of Scotland's best
kept secrets…now discover her for yourself."
Stevie Bolger (Dublin's Country Mix 106.8fm)