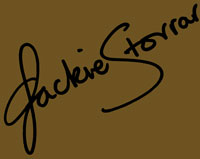 Having hung up her headphones some years ago, to concentrate on her singing career, Jackie Storrar is now back on the airwaves.
In Spring 2007 she was asked to join the original team to launch Smooth Radio Scotland.
Following on from the success of that, Jackie took up the opportunity of hosting "The Country Cafe" on CMR Nashville (Europe's No1 24/7 Country Music Station).

"I'm really enjoying presenting again" says Jackie. "It feels like I've never been away. With the explosion of Internet Radio, it's an exciting time to be involved at CMR Nashville."
Jackie's presentation style has often be likened to that of veteran Presenter Gloria Hunniford, a comparison that Jackie accepts as a huge compliment. There is a personal warmth and sincerity about Jackie that will get you hooked and within minutes you'll feel like you're listening to an old friend.
Jackie's radio experience is considerable and goes back many years. Like a lot of presenters, her first words behind the microphone were in Hospital Radio: Kirkcaldy's Victoria Radio Network.
"I had a great time at VRN but I didn't take it too seriously. I never imagined it was going to lead anywhere."
Lead somewhere it certainly did. After reaching the finals of the local
"Voice of 85" competition, Jackie was offered her own Country Show on Radio Tay (in Scotland). Due to the success of that, she was asked to present another show called "Feelings", where she became one of the stations' most popular broadcasters.
"I didn't realise just how much this show meant to people until one day I received a BBC "Hearts of Gold Award" from Esther Rantzen. I had been nominated by one of my listeners. My show had become a lifeline for him and so many other broken and lonely hearts."
In 1994 Jackie packed her bags, leaving her native Scotland, to take up a job with Radio Calypso in Malta.
This was certainly a culture shock for her but Jackie embraced the challenge and within a few months she'd taken on the "Breakfast Show" at Malta's favourite radio station "Island Sound."
"This turned out to be a great move", says Jackie. "I enjoyed this show so much. I even didn't mind the 5am rise every morning as I got to have my siesta on the beach!! Suddenly I was broadcasting to over one million locals and tourists every year and became known as the "English speaking voice of the nation."
During this time she met and interviewed so many interesting people: including Hollywood legend Charlton Heston, World Snooker Champion Stephen Hendry, Olympic Gold Medallist David Wilkie, Entertainer Daniel O'Donnell, Magician Paul Daniels & Percussionist Evelyn Glennie."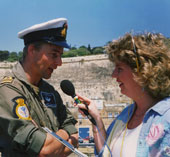 "…One of my proudest moments was being asked to present a live Broadcast from the deck of The H.M.S. Illustrious, to celebrate the 50th Anniversary of V.E.Day. Being so far from home during such an historical moment, I felt extremely patriotic."
During her 4-year stay in Malta, Jackie was promoted to Programme Controller, which gave her the ultimate challenge of running the station. Along with new responsibilities came new opportunities and she soon became a well-established name in the local media.
"I look back on my time there with affection", says Jackie. "I made some great friends and met a lot of interesting people."
Having been away from radio for a while, she is thoroughly enjoying her time broadcasting again.
"I remember the time when I had a team of 14 and a breakfast show to run…Now, I get to have all the fun but with none of the worries. It's great!!"
"The Country Cafe" is broadcast worldwide on the Internet and you can hear 2 hours of Jackie's favourite blend of Country Music plus the latest Top 20 Hot Disc Chart.


For more information on Jackie's radio show click on the link below.